Paralympic lantern welcomed to Suffolk's Needham Market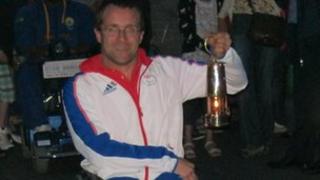 The Paralympic flame has been welcomed to Suffolk by athletes and a crowd of thousands of people.
Wheelchair basketball player Amy Nettleton travelled with the lantern from Trafalgar Square before attending a civic reception in Needham Market.
Later, Paralympian Brian Aldiss held aloft the flame for a procession around the town before a firework display marked the event at Needham Lakes.
The flame is visiting six other events in the county over the weekend.
Mr Aldiss, who represented Great Britain in Beijing in 2008, said: "I stopped at one junction - there was a young girl in a wheelchair who wanted a photo.
'Really special'
"That's what the Paralympic flame is all about, inspiring the future generations."
Instructor Alistair Renton said it was "really special" that the flame was visiting the East Anglian Sailing Trust at Levington Marina.
"We're using the opportunity of the Paralympic torch to try and encourage disabled sailors to come down and have a go," he said.
"If they like it, we'd be only too happy to sign them up and take them on regular sailing activities."
Mr Renton said he was confident the Paralympics would be inspirational to a new generation of athletes.
"It will show people who have got disabilities that sailing is something that can be done, even with a severe disability," he said.
The flame will be on display at Moyse's Hall Museum in Bury St Edmunds on Monday before it heads out of the county.