'Only visit A&E if you are dying' advice toned down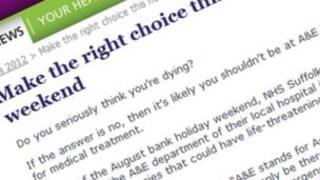 NHS Suffolk has been criticised for asking patients to only use accident and emergency services over the bank holiday if they think they are dying.
An article posted on its website asked: "Do you seriously think you're dying? If the answer is no, then it's likely you shouldn't be at A&E looking for medical treatment."
The Patients Association said it was a "concerning approach".
NHS Suffolk said the language was "too blunt" and has edited the article.
The healthcare provider said it still stood by the sentiment of the piece, which was asking patients to use the A&E department sparingly.
'Tummy upset'
In the original article, GP Dr John Havard said: "A&E stands for accident and emergency, which means you should only be there if you've had a serious accident or you have a medical emergency.
"Having toothache isn't going to kill you and a bad back doesn't mean you're about to die.
"Earache isn't life-threatening and a tummy upset will pass in time.
"Staff at A&E are busy saving people's lives - it's important their time is not wasted by people who shouldn't be there and who could be getting the right medical treatment elsewhere."
Katherine Murphy, chief executive of healthcare charity the Patients Association, said the original posting was wide of the mark.
"The vast majority of people would only consider visiting an A&E department because they felt the illness or injury was sufficiently serious," she said.