Free dictionaries given to school pupils in Lowestoft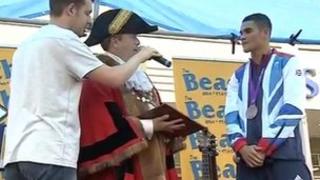 More than 500 dictionaries are being given to schoolchildren in Lowestoft, where a charity says literacy levels are "regrettably quite low".
The Rotary Club said 13 of 21 primary schools have taken up the offer of the free illustrated dictionaries.
David Collins, president of East Point Rotary Club, said: "This is our way of helping to improve those skills."
Last week a commemorative shield awarded to Anthony Ogogo included a wrong spelling of the boxer's surname.
He was handed the coat of arms by the mayor of Lowestoft as part of a homecoming parade marking his success at the Olympics.
The plaque spelt his name incorrectly as Agogo. A replacement is being made.
'Considerable hardship'
Mr Collins said literacy levels in Lowestoft were "lower than the national average and certainly lower than the county average".
The dictionaries will cost £1,800 and are being paid for by two Rotary clubs in the town and a local shop.
"Lowestoft is not the most prosperous towns - we have some areas where there is considerable hardship," Mr Collins said.
"If we didn't buy these dictionaries I guess it would not happen.
"Our view is that we're not only giving children a dictionary, we're probably in some homes putting the first dictionary in."