Ipswich Town Football Archive used in learning project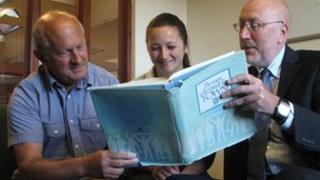 Ipswich Town's collection of memorabilia is to be used in a charity's learning project to encourage numeracy and literacy in youngsters.
The ITFC Charitable Trust is cataloguing the club's archive of programmes, trophies, video and documents and putting it online.
It will be used in the trust's education projects which aim to use football to encourage learning.
The trust is asking supporters to donate more items.
There are about 1,500 items to be catalogued, interpreted and made available for the online Ipswich Town Football Archive, as well as developing a plan to develop the display of items at the Portman Road stadium.
Peter Funnell, the project leader for the trust, said: "The stories that surround the items will offer a strong and exciting motivation to learn.
'Power of football'
"Youngsters can be inspired by the archive in the same way as people have been inspired by the Olympics and Paralympics.
"We're very keen to capture supporters' stories online, particularly from European trips, and memorabilia from around the time of the club turning professional in 1936."
The archive would be used in after-school clubs run by the trust, which said it aims to use the 'power of football' to encourage young people to be active and learn literacy, numeracy and IT skills.
The project said numeracy could be taught by looking at league tables, such as from the League Championship-winning season of 1961-62.
Literacy could be encouraged by getting youngsters to write mock triallist's letters and comparing them to actual triallist's letters written to managers.
The trust said a trophy such as the local Hospital Cup could be used to teach social history.
It was won by Ipswich Town in 1928, before the club turned professional, and was used to raise funds for people who could not afford treatment in the pre-NHS era.
'Real aggravation'
The project has been given £49,700 by the Heritage Lottery Fund.
Russell Pope, 67, has been an Ipswich supporter since 1957 and volunteers with the project.
"There's so much stuff that the normal supporter isn't aware of and, for a fan, I was so excited to get behind the scenes and see things dating back to the 1930s.
"When I was a kid I would have loved to have been in a position when I could get my hands on archives and trophies.
"It's been fascinating to look at board meetings from when they turned professional, when there was real aggravation and it was a big thing in the town, and if a youngster can relate to that they're learning a lot about social history."
The East Anglian Film Archive is also involved in the project and is interpreting its own collection which includes newsreel footage. There is silent film from two unknown games from 1928, a documentary about former manager Sir Alf Ramsey and unedited material from regional television.