SnOasis ski centre railway station progress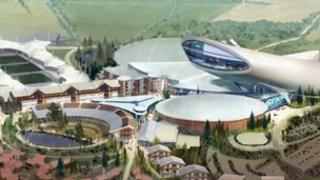 Plans to build an indoor ski centre in Suffolk are "no longer at stalemate" following a meeting with the government about its railway links.
The developer Onslow Suffolk met the Department for Transport and was told to submit a business plan for a railway station at Great Blakenham.
If approved, it would be included in the next tendering process for railway operators which will begin in 2013.
The £300m SnOasis complex could open in 2015, it was said.
Building a new railway station is a condition of the planning permission for the complex, which was granted to Onslow by Mid Suffolk District Council in 2008.
Godfrey Spanner, manager of Onslow Suffolk, said: "The hold-up has been that we have not had the ability to negotiate terms of operating our railway station with a railway operator.
'Very optimistic'
"There were no promises made [by the DfT], but we found a path forward that will allow us to be included in the next round of tenders and the next railway operator should be in place in 2014.
"We're no longer at stalemate and I'm very optimistic for the first time in 18 months."
Mr Spanner said the investors are still in place and he estimated SnOasis would open in 2015.
A Department for Transport (DfT) spokesman said the developer had been advised to submit a new business case for the Great Blakenham station.
The DfT said, if it was happy, the new railway station would be included in the next tendering process for the franchise to operate trains in the Anglia region.
The contract of the current operator, Greater Anglia, runs out in 2014.
Onslow said it would lease the railway station to the train company.