Lowestoft burglary: Third man arrested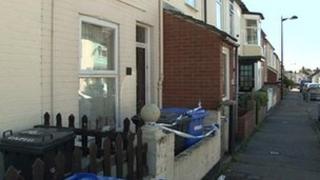 A third man has been arrested following a burglary in Lowestoft which left a mother and daughter seriously injured.
The 31-year-old man from Lowestoft was arrested on suspicion of attempted murder and causing grievous bodily harm in relation to the incident.
He was detained on Thursday afternoon and remains in custody.
Police said two people forced their way into the house on Cambridge Road on 27 August, assaulted the two women and stole money and jewellery.
A 47-year-old woman remains in Addenbrooke's Hospital in Cambridge, where she is described as being "stable and improving".
Her daughter, 28, was left with a broken arm and head injuries.
Alan Harwood, 30, of High Street in Lowestoft, has been charged with aggravated burglary and two counts of causing grievous bodily harm.
He is due to appear at Ipswich Crown Court on Tuesday.
A 36-year-old man from Lowestoft arrested on suspicion of conspiracy to commit robbery has been bailed until 25 October.