Broomhill swimming pool: 'A good place for young love'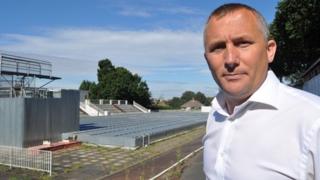 Mark Ling's love affair with Ipswich's Broomhill outdoor swimming pool stretches back to his childhood.
His mother and father met there and bought their first house across the road, and as a boy he would run home from school and spend the summer evenings there.
Now, 10 years after the Ipswich lido was forced to close, he is leading the campaign to see it restored to its former glory.
The pool, which opened in 1938, is currently covered by a metal grill and the area surrounding it has become over-run with weeds.
But Mr Ling, 43, along with the other 11 volunteer members of the Broomhill Trust, believes a breakthrough is close.
Fusion Lifestyle, which runs lidos in London, wants to open the pool for swimming in the summer and generate income as a gym throughout the year.
"After 10 years I try not to get too excited, because there have been so many highs and lows along the way," said Mr Ling, whose day job is in the shipping business.
"We're inches away from success and inches away from failure, the stakes are very, very high."
Ipswich Borough Council has promised £1m towards the project and another £1m would come from Fusion Lifestyle, whose plans include the reintroduction of a clock tower and a restyled cafe.
But the plans, which could see the pool reopened by 2014, hinge on the success of a £3m Heritage Lottery Fund (HLF) bid.
For Mr Ling, the battle to save Broomhill is fuelled by his family's long and close history to the pool.
"Broomhill was always a good place for young love and developing an interest in the opposite sex," he said.
"My dad was a very good swimmer. He swam for Ipswich swimming club, represented Suffolk and was also a very good water polo player.
"He met my mum here in the 60s."
The swimming pool was one of three immediate attractions for the adolescent Mark and his brother.
Westbourne Library, which matches the art deco design of the pool and was used as a decontamination unit during World War II, and a park - lovingly known as "the dump" - were the others.
"We weren't particularly well off but we were like kings in terms of the facilities we had - having a fantastic 55 metre lido in your front garden isn't a bad thing," he said.
His earliest memory of Broomhill is spending long days in the children's pool, with some "jam sandwiches in a Tupperware box and a bottle of squash that would last all day".
By the time he was at school he had made the move up to the main pool and was visiting Broomhill on a daily basis.
"I would run home from school, get into my Speedos and go straight across to the pool and stay here until my dad would whistle from across the road," he said.
And then, as he moved on to his teenage years, he was offered a job in the cafe.
"It was one of the best jobs I ever had," he said. "Mrs Lewis would pay me five quid for a day's work.
"I'd get a hamburger and a Fanta, got to chat up any of the girls and got an hour off to have a swim - it was pretty perfect."
The diving boards were a big draw for many of the 2,000 people who could visit the pool a day.
Mr Ling said he was more at home on the spring boards but could not beat the feeling of the 5m high fixed board, with its views over the west of the town.
"You stand out in the middle of nowhere - you're five metres up but also 25 metres over Ipswich - it does feel like you're flying," he said.
The boards can still be seen, sticking out over the top of a protective fence.
Some of the graffiti which was covered up with the help of the Suffolk Probation Service can still be seen beneath the white paint, doors are missing from the 180 or so changing cubicles and the roof of one of the communal changing rooms looks in need of repair.
But otherwise, cosmetically, the building looks to be in a relatively good state.
Mr Ling said Fusion Lifestyle was in the process of reassessing its design for the pool, as its initial £5m scheme was "deemed a bit too expensive" by the HLF.
With a finish line in sight, Mr Ling has allowed himself to dream of Broomhill reopening.
"On a recent Radio 4 documentary, they said indoor swimming is to underpants as lidos are to lingerie - for me that's exactly how it is," he said.
"Swimming outdoors, being at one with the elements and nature, is a totally different way of swimming.
"It's the contrast here - you've got the backdrop of the green of Broomhill park, which is a natural woodland, massive skies, as you go into late afternoon and early evening you get blood red skies - and in the middle you have this stark white modernist building.
"Every one of your senses is being used, and there aren't many places that you can do that nowadays.
"It's a wonderful place to be."