Southwold vote to keep bus ban and introduce minibus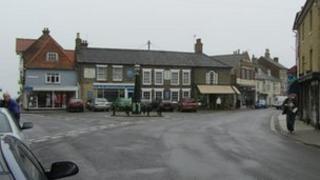 Planners have voted to keep a ban on buses in Southwold High Street.
The town council introduced a trial ban in July 2011 with the aim of easing congestion by moving the final bus stop further from the town centre.
It has now voted to keep the ban, but introduce a minibus to take people from the Market Place to the new bus stop.
Some transport groups and local businesses said they still want to see larger buses reinstated along the whole High Street.
Buses used to stop and turn at the Market Place end of the High Street, but now passengers are dropped 330 yards (300m) further from the centre of town.
The town council said its decision to keep the ban was based on a survey of residents, local businesses and visitors carried out in August.
'Not happy'
It has accepted a provisional offer from Suffolk County Council to give it a nine-seat minibus, which could be used to shuttle passengers along the High Street.
Michael Ladd, mayor of Southwold, said: "We had to try and resolve this congestion problem as we are a Victorian seaside town and the roads aren't made for large vehicles or coaches.
"To do nothing was not an option.
"It's a difficult nut to crack and we feel we've made some progress."
Guy Mitchell, chairman of Southwold & District Chamber of Trade and Commerce, said: "It looks like good news that the council is supporting business by introducing a minibus and we look forward to getting more detail about how it will operate and what it would cost passengers."
The East Suffolk Travellers Association (Esta) said its own survey found the bus into town was mainly used by pensioners doing their shopping.
Rod Lock, secretary of Esta, said: "We're not happy with the town council's decision.
"I don't think a minibus is satisfactory because passengers will be charged for it and it's not very convenient if you've got shopping and now have to get on two buses."
The final decision on the bus route and minibus will be made by Suffolk County Council.