BBC Radio Suffolk's Children in Need Pop Quiz 2012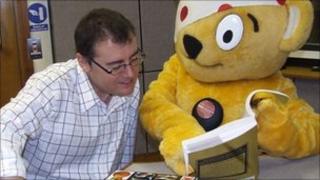 Stephen Foster's annual BBC Suffolk Children in Need Pop Quiz returns to Ipswich town centre for 2012.
It will take place on Tuesday, 9 October at 19:30 GMT in the St Nicholas Centre on Cutler Street.
Foz said: "As usual I'll be compiling a range of themed rounds based on song recognition, a picture round or just questions.
"There will be a couple or real testers to ensure my record of never having anyone get 100% remains intact."
Download BBC Radio Suffolk Pop Quiz 2012 entry form
[183kb]
It costs £8 per person, with teams having four to six members. Proceeds go to Children in Need.
Foz, who presents BBC Radio Suffolk's Drivetime and Sunday afternoon shows, said: "It's in the more intimate surroundings of one of my favourite venues in Ipswich.
"It obviously helps if you know your pop music, but even if you're not an expert it's a great night for wallowing in nostalgia and it's a great cause."