Ipswich RSPCA vets clinic's rise in benefit claimant clients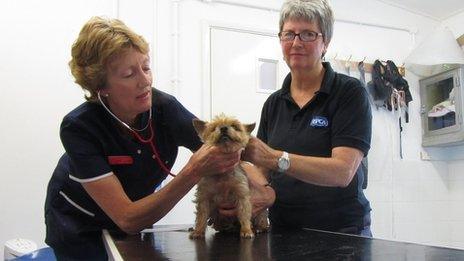 A vets service in Ipswich, which offers discount treatment for pets whose owners claim benefits, says it has seen demand rise by a third in four years.
The RSPCA's clinic saw 2,008 animals in 2011 compared to 1,468 in 2007.
The animal welfare charity said the economic slump meant more people could not afford private vets fees.
The clinic asks for a £6 donation for treatment but said 35% of clients were unable to pay that.
The service in St George's Street is run by the Suffolk East and Ipswich branch of the RSPCA for two hours a week.
Clinic manager Sue Southgate said: "We never turn anyone away and so far this year we've already treated 1,700 animals, so by the end of 2012 we could be well over the highest rate we've ever had.
"With the current economic climate, people are finding it less and less easy to afford regular vets' fees and we've seen a huge upsurge.
"I would fear for animal welfare locally if we ceased to exist here."
Katie Tyler's Staffordshire bull terrier has a weekly injection at the clinic for the treatment of mites.
"My uncle goes to a normal vet and he has to pay £70 a week and we couldn't afford that at all," she said.
"Usually if they get so bad they have to be put down, so it's good the clinic is here so we can keep her and she can be healthy."
John Allen, who brought his King Charles Spaniel to the clinic for knee treatment, said: "My wife's disabled and I had to take early retirement to look after her, so money's short.
"We used to have Labradors, but we went down to smaller dogs because they're less money to keep, but if I didn't have this I would have to get rid of them."
Related Internet Links
The BBC is not responsible for the content of external sites.