Leiston Film Theatre plans centenary expansion project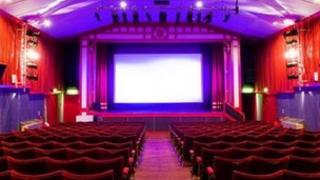 Suffolk's oldest purpose-built cinema is planning a £200,000 expansion for its centenary next year.
The Leiston Film Theatre wants to build a larger dressing room area for its live shows.
Wayne Burns, venue manager, said: "Our backstage facilities are inadequate and if we can improve them we can attract bigger and better shows."
Leiston Town Council, the venue-owner, is applying for planning permission and tendering for the project.
The venue said shows, such as the annual pantomime, can have over 50 performers and some of them end up changing in the garage because the dressing room is too small.
The plan is to build a second storey on top of the existing dressing rooms which can also be used for rehearsals, meetings and exhibitions.
'Focal point'
Mr Burns said: "We've come as far as we can with the cinema's refurbished auditorium and digital 3D projection so it's no longer a fleapit - it's a jewel in independent cinema.
"The next step is to develop the live show side."
The 300-seat theatre opened in 1914 and was taken over by the town council in 1976.
The council said the venue had broken even and not required a subsidy for three years.
Tony Hodgson, chairman of the council, said: "It's a very important venue for Leiston socially and as a focal point for entertainment so that people don't have to travel to Ipswich, Lowestoft or Norwich for live shows.
"We will be putting the scheme out to tender and then the council will have to decide whether we can afford to fund it with a grant or get a loan."