Peter Avis murder: Pair deny planning robbery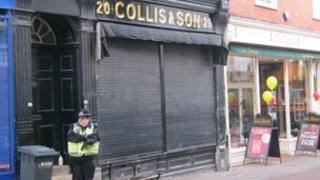 A jeweller died after being beaten and stabbed 13 times in a botched burglary at his home, a court heard.
Peter Avis, 66, was found dead in the flat above his Collis & Son shop in Bury St Edmunds, Suffolk, in January.
At Ipswich Crown Court, Aleksandra Karpiuk, 27, of Lake Avenue, Bury St Edmunds, and Pawel Borowiecki, 31, of Roslyn Road, London, deny conspiring to commit burglary.
Another man, Pyotr Melaniuk, has admitted murder and burglary.
Speaking at the start of Miss Karpiuk and Mr Borowiecki's trial, prosecutor Peter Gair said the pair gained entry by forcing open a downstairs window.
'Real tragedy'
He said: "The shop was a prime target for a burglary: a vulnerable, single person working alone.
"That was indeed what happened. They stole silverware and jewellery.
"The real tragedy was that Mr Avis was present in his flat and was murdered during the course of the burglary."
Mr Gair said Mr Avis had a brain aneurysm about 20 years ago and relied on a walking stick and frame.
Police officers discovered Mr Avis dead in his bed, the court heard.
"He had been struck about the face with a glass ash tray and stabbed 13 times," said Mr Gair.
'Helped escape'
Two other men have admitted charges relating to the burglary, the court heard. Kamel Kita, 20, of no fixed address, admitted burglary.
Pawel Pacian, 34, of Lake Avenue, Bury St Edmunds, has admitted handling stolen goods.
Miss Karpiuk has also been accused of assisting an offender by driving Melaniuk, who remains in custody, to Stansted Airport as he fled to his native Poland after the killing.
Mr Gair said Miss Karpiuk had told police that Melaniuk had ordered her to drive him to the airport, saying "if you want your daughter and yourself alive you better co-operate".
Mr Gair said: "We do not suggest the defendants knew that Melaniuk was going to kill a man that night.
"What we do say is that they were involved in planning the burglary carried out by Melaniuk and Kita.
"Miss Karpiuk then helped Melaniuk's escape by driving him away from the scene."
The trial, which is expected to last up to two weeks, continues.