Anthony Ogogo becomes Waveney sport ambassador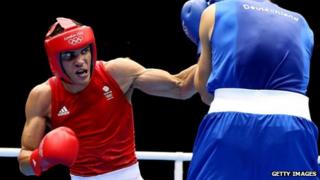 Lowestoft's Olympic medal-winning boxer Anthony Ogogo is to become a sports ambassador in his home area.
The 23-year-old has accepted the role from Waveney District Council.
Mr Ogogo and the council hope he will use his spare time to go into schools and sports clubs and try and inspire people.
The middleweight won a bronze at London 2012 and has already had a homecoming parade in Lowestoft attended by about 500 people.
Councillor Peter Collecott, chairman of the council, said: "We don't have many Olympians in Lowestoft and he's a fabulous guy who's become a very famous person in this area.
"His time is very valuable and if we can get a little bit of that time for him to go out and promote sport then then the whole school, for instance, would want to be involved."
'Eager' for role
Mr Ogogo said he was still undecided as to whether he should turn professional or remain an amateur boxer.
"It's something that I'm eager to take on," he said.
"I was just one of those kids sitting at home with an X-Box ten years ago doing nothing, and I want them to realise that if I can do it, then they can do it.
"I'm still an active fighter and that's going to take preference, but if I have got the spare time, then it's going to be an honour for me to do that."
In August, Mr Ogogo was presented with a plaque by the Mayor of Lowestoft which misspelt his name as 'Agogo'.
The plaque was taken back and a new one was promised.
The boxer added: "It's been the bane of my life. I've won trophies and they've been engraved 'Agogo'.
"I think the plaque's been done, but I haven't had it back yet."