Peter Avis murder: Burglary accused 'did not know of killing'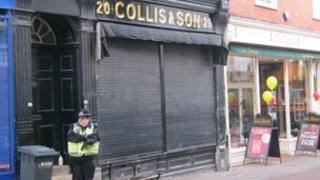 A man accused of planning a burglary in which a jeweller was beaten and stabbed to death did not know of the killing until the next day, a court heard.
Peter Avis, 66, was found dead in the flat above his Collis & Son shop in Bury St Edmunds, Suffolk, in January.
Pyotr Melaniuk, 28, has admitted murder and burglary at Ipswich Crown Court.
His alleged accomplices Pawel Borowiecki and Aleksandra Karpiuk deny conspiracy to burgle. Ms Karpiuk also denies assisting an offender.
Mr Borowiecki, 31, of Roslyn Road, London, said he went to a club the night after the killing and heard Melaniuk say he had killed someone.
In a police interview Ms Karpiuk, 27, of Lake Avenue in Bury St Edmunds, said she was forced to help with the raid and feared her family would be harmed.
'Covered in blood'
Speaking through an interpreter, Mr Borowiecki told the court he was not aware of any threats made to Karpiuk.
Asked if Melaniuk was a "nasty person", he added: "As far as I know he was a nasty, violent man and I was worried he would harm my partner."
Ms Karpiuk told police Melaniuk arrived at her home covered in blood and ordered her to drive him to Stansted Airport.
In the interview she said she was told: "If you want your daughter and yourself alive you better co-operate."
Prosecutor Peter Gair earlier told the court the shop was a prime target for a burglary because Mr Avis had mobility problems and worked alone.
Mr Avis was struck about the face with a glass ash tray and stabbed 13 times, the court heard.
The property had been ransacked and a number of valuable items were missing.
Melaniuk previously admitted murder and burglary and has been remanded in custody after being arrested in Poland and extradited to the UK.
Two other men have also admitted their involvement. Kamel Kita, 20, of no fixed address but arrested in London, admitted burglary. Pawel Pacian, 34, of Lake Avenue, Bury St Edmunds, admitted handling stolen goods.
The trial continues.