Debenham Sports Centre ram-raided overnight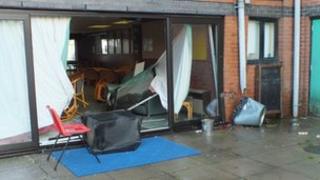 A sports centre in rural Suffolk has been ram-raided by thieves who tried to steal the safe.
A Toyota Hilux was driven into patio doors at the rear of Debenham Sports Centre at about 02:30 BST on Friday.
Staff said some internal doors were then smashed in as the safe was removed, but it was left unopened outside the building.
The car had been stolen from the nearby village of Redlingfield on Tuesday or Wednesday, the police said.
Suzie Morley, chair of the Debenham Sports and Leisure, said: "While we are pleased nothing was taken, we're obviously very upset by the terrible damage that has been caused to our wonderful centre.
"The success of the charity has always relied heavily on the goodwill of our local community and because of this we remain open for business as usual."