Jeweller Peter Avis murdered by on-the-run Polish prisoner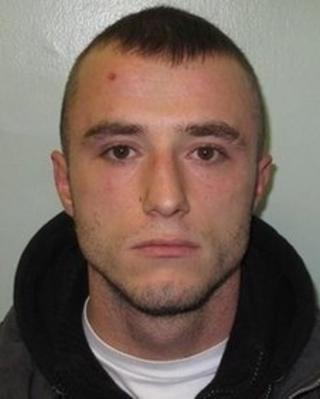 A convicted robber murdered a Suffolk jeweller after entering the UK while on the run from a Polish jail, it has emerged.
Ireneusz Melaniuk, 34, stabbed 66-year-old Peter Avis in a botched burglary in Bury St Edmunds on 13 January.
Melaniuk then returned to Poland on a flight from Stansted Airport, in Essex.
Vicky Ford, a Conservative East of England MEP, said the case raised questions about checks on criminals carried out between European countries.
"It seems very strange that someone who has escaped from jail on day release can enter the UK without being stopped," she said.
"It's basic Sherlock Holmes stuff. Criminal on the loose - you alert ports and airports.
Spider tattoo
"There should be a mandatory system in place where countries put out an alert that someone is wanted."
Details of Melaniuk's conviction emerged after two people were found guilty on Tuesday of conspiring to rob Mr Avis.
Polish national Melaniuk will be sentenced on a later date after admitting murdering Mr Avis, described by his family as a "gentle, old-fashioned and private man".
The court was told Melaniuk, also known as Pyotr Melaniuk, had forced a woman to drive him to the airport and boarded a flight home.
An international manhunt began after police issued a wanted appeal for Melaniuk on 25 January along with a £5,000 reward.
Extradited
Suffolk police said it emerged during the investigation into Mr Avis's murder that Melaniuk had disappeared while on day release from a Polish prison.
A Polish Embassy spokesman said Melaniuk had been serving a sentence for robbery at a prison in Chelm, Poland.
He was captured by Polish police on 17 February and extradited to the UK on 3 July.
A UK Border Agency spokesperson said: "Where foreign law enforcement agencies inform us of individuals who may pose a risk to the public travelling to the UK, authorities are able to take action.
"Passengers travelling to the UK are checked against a range of watch-lists.
"The onus for flagging someone's criminal history lies with the police in their home country - we would then use this information to decide whether they should be allowed into the UK."