Waveney leisure centres trust pledges to repay council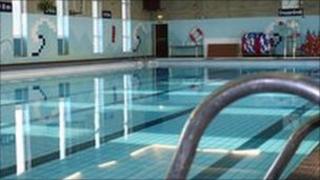 A trust which runs leisure centres in Suffolk has said it will repay a £300,000 investment from the council.
Waveney District Council agreed to the financial package for the Sentinel Leisure Trust to address its "cashflow issues".
The trust has managed Waterlane Leisure Centre in Lowestoft, and Bungay Pool & Gym, for the council since 2011.
Its chief executive has now left her post and the council is providing interim management support.
The trust said that as well as Victoria Beck leaving, three new people had been appointed to its board of trustees.
'Major issues'
Andrew Wilson-Sutter, the new board chairman, said the money was needed to get Sentinel back to a "position of strength".
"The task now is to ensure that Waterlane is operated effectively and efficiently to secure a viable and sustainable future," he said.
Waterlane Leisure Centre, which is still owned by the council, reopened earlier this year after an £8m redevelopment project with funding from several public bodies.
Mr Wilson-Sutter added: "I would like to make absolutely clear that any revised business plan will include the repayment of this money to the council."
David Gallagher, Waveney's head of commercial partnerships, said: "We have a really strong team in place now and I am confident that the major issues faced by Sentinel are now in the past.
"A full review of the business model will not be achieved overnight, however by stepping in now and making strong business-focussed decisions, we have stemmed the tide."