Fire at Woodbridge workshop treated as suspected arson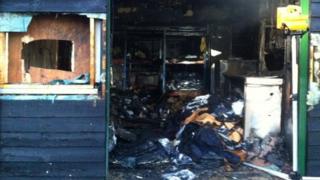 A fire at a Suffolk leather goods firm is being treated as suspected arson.
Up to 30 firefighters tackled the blaze at Gibbins of Suffolk in Deben Road on Woodbridge's riverside.
Suffolk Fire Service was called just after midnight and up to eight engines spent three hours bringing the fire under control.
Mark Sanderson, assistant chief fire officer, said heating oil had caught alight and was streaming down the road when crews arrived.
"It's not something we face every day," he said.
"It's something we train our firefighters to deal with but there are not many opportunities where you get to put those skills to the test."
The Environment Agency was called to ensure there was no run-off into waterways and Network Rail was consulted, as the East Suffolk line runs close to the building.
Mr Saunders said a fire investigation officer and Suffolk Police were examining the scene.