Empty shops in Ipswich 'need entrepreneurs'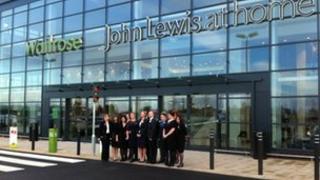 A business group is calling for more "entrepreneurial thinking" in Ipswich to replace empty town centre shops with other outlets.
As a large Waitrose and John Lewis opens on the outskirts of town, Ipswich Central said town centre buildings could not rely on new shops coming in.
The business support group said the council must allow other types of business to move into retail units.
Ipswich Borough Council said its policy was to attract more varied businesses.
A joint Waitrose and John Lewis at Home superstore has opened at the former Cranes factory site in east Ipswich employing 375 people.
Ipswich's two town centre shopping centres have empty units, the former civic centre site is still undeveloped and Sir Stuart Rose, the former chairman of Marks and Spencer, has offered his input into revitalising the town centre.
'A nonsense'
Paul Clement, the executive director of Ipswich Central, said: "The important thing is that we turn our attention back to the town centre and be very entrepreneurial about how we grant planning permission within it.
"We want to see shops, cafes, cinemas, doctors surgeries and hospitals, but there are planning restrictions on how many units can be used for non-pure retail use and that is a nonsense in this day and age.
"We haven't given up on bringing in bigger retailers, but what I'm saying is just to sit back and wait for retailers is the wrong thing to do."
Ipswich Central praised Ipswich Borough Council for granting approval for a new cinema in the former TJ Hughes store.
David Ellesmere, the council's Labour leader, said: "We would have preferred John Lewis and Waitrose to have located in the town centre but that was never on the company's agenda.
"The council is committed to working with partners such as Ipswich Central on improving the town centre and we have a common vision to attract more businesses here and make it a more varied and attractive place to visit."
The developers of the Cranes site, Aquigen, said it will eventually provide 1,500 jobs when all the retailers are in place.
Paul Isaacs, managing director of Aquigen, said: "A store like Waitrose and John Lewis is very land-hungry and there are very few [town centre] sites where you could fit a store of this scale in.
"I don't believe it will pull people out of the town centre - it's a bulky goods offering, so I think the difference between here and the town centre can be accommodated."