Kittens escape from Ipswich landfill site digger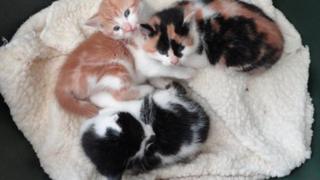 Three abandoned kittens had a lucky escape when they were spotted at a Suffolk tip just moments before a digger got to them.
Staff at the Foxhall landfill site in Ipswich spotted them among the waste and scooped them to safety.
It is thought the five-week-old kittens - two males and a female - had been dumped in a household wheelie bin.
David Smith, from Ipswich Cats Protection, said the "very traumatised" kittens were now "perfectly happy".
Staff at the recycling centre called him as soon as they had rescued the animals from the dump.
'Fast learners'
"They had done their best to make them comfortable by putting them in a box with a blanket," Mr Smith said.
"But the kittens were shaking and were clearly traumatised. For a start they are much too young to be away from their mother.
"The only logical explanation for them being there is that someone put them in a wheelie bin to get rid of them."
He and his wife are looking after the kittens until they are old enough to be micro-chipped, vaccinated and moved to new homes.
"They've been vet-checked already and they are in great health. They're lovely little things and very good-natured.
"Last night they used their litter tray for the first time so they are fast learners too," he said.