PCC election: Suffolk candidates discuss privatisation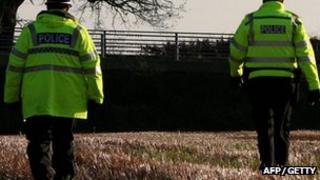 Candidates for the post of police and crime commissioner in Suffolk have given their views on the privatisation of force activities.
A budget of £112.2m was set for Suffolk Police in the 2012/13 financial year and officer numbers would have to remain below 1,200.
More than £7m in savings are still needed as part of a four-year plan up to 2014/15 to make total cuts of £17m.
By sharing some civilian services and police activities with neighbouring forces, Suffolk has been able to hold down costs.
However, putting other activities not directly involving police work out to private tender is a policy not far from the minds of the candidates.
Jane Basham, for Labour, said: "I'm generally opposed to privatisation but I think there's a place for private and public partnerships, for instance, around IT.
"There's no clear evidence that private firms do it better or cheaper. I believe passionately in the concept of public service."
'Avoid privatisation'
David Cocks, Independent, said: "In principle, I don't have any problems with using outside providers for those areas where outside providers can give you a better service.
"Estates will be one area. If you can find a better way of managing estates, why not do that? Clearly the core base of policing can only be done by police officers."
Bill Mountford, for UKIP, said: "As much as possible I think we should avoid privatisation.
"Where this has been tried in the health service and care of the elderly it tends to create more problems than it solves.
"Usually the long-term payments far outweigh the savings.
Tim Passmore, Conservative, said: "I have no objection to using private sector expertise, but not on the frontline. That is a job for police officers, and that's non-negotiable.
"Some clerical work could be outsourced but I'm keeping an open mind on sponsorship."