Stowmarket rail line crash: Barrier failure a cause, says report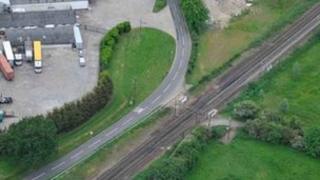 A crash in which a car left a road and was hit by a train was partly caused by safety barriers not being improved, accident investigators have ruled.
The Vauxhall Astra left the B1113 near Stowmarket in Suffolk last November, although the driver had got out before the train hit it and nobody was hurt.
The rail accident investigation said the county council assessed the road in 2005 but measures were not taken.
The council said a barrier was being designed but was not installed in time.
It said the barrier and lower speed limits had since been introduced at the bend near the railway line.
'Hadn't done it'
The report said the driver of the Astra lost control on the road between Stowmarket and Old Newton on the evening of 30 November 2011.
The car went through a wire fence on to the track and the driver got out minutes before the car was struck by the train. No-one on the train was injured.
The Rail Accident Investigation Branch said Suffolk County Council had assessed the road in 2005, but safety measures had not been put in place.
The investigators said a failure to put better barriers on the road had been a cause of the accident.
Lucy Robinson, the council's director of the environment, said: "We focused on sites where there was a history of accidents and we prioritise and this particular one didn't score as highly as others in that process.
"In hindsight, we should have taken action earlier and we were in the process of designing a barrier and getting one in place, but we just hadn't done it by that time.
"We've done a thorough overhaul of our procedures to make sure we understand these type of sites where a road comes close to a railway."
'Clarity' needed
The investigators said Network Rail had also been involved in the 2005 assessment but it had not monitored whether the safety work had been carried out.
A Network Rail spokesperson said: "We have already started to address the issues raised in the report and will carefully consider their recommendations and take any necessary action."
The investigators also said government agencies needed to clarify who had responsibility for making safety improvements at known accident risk sites.
A spokesperson for the Office of Rail Regulation said: "We are fully aware that greater clarity is needed to define the legal responsibility for the regulation and enforcement of highway authorities' measures for reducing the risk of road vehicle incursion on the railway.
"This is a very important safety issue and the regulator is working with the Health and Safety Executive to develop a solution."
A Department for Transport spokesperson said: "The safety of those using the transport system is a top priority for the department and we will now consider this report - including the recommendations for the DfT - and take any action required."