Suffolk Police radio fault at Landmark House in Ipswich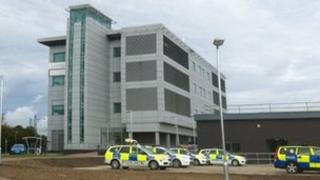 Suffolk Police has admitted there are problems with hand-held radios at its new office block in Ipswich.
Suffolk Police moved some of their services, including staff from the Ipswich town centre station, to Landmark House, Whitehouse, last month.
It has been discovered that the Airwave radio system's signal is variable on the ground floor.
The force said tests were carried out before staff moved in, but engineers were working on the problem.
Ch Supt David Skevington, county policing commander, said: "Systems staff have identified an area on part of the ground floor, where the signal is intermittently weaker than elsewhere.
"Tests were carried out prior to the building being occupied and operational and initial tests were positive, but until the area is furnished and people are operating within the building, the true nature of the coverage cannot be proven.
"Engineers are working on the problem to resolve it as soon as possible."
Police said it was affecting a small area and was having very little impact on operations.
The force and Suffolk County Council bought the four-storey office block for just under £4m, claiming it would save both organisations £1m a year once services moved there.
It will be home to 850 police and council staff.