Suffolk Police Chief Constable Simon Ash to retire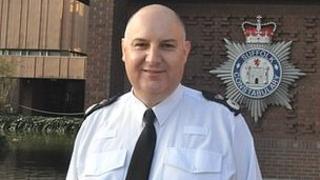 Suffolk Chief Constable Simon Ash has announced his retirement, saying it was "an appropriate time" to leave.
Mr Ash, who joined the force in 2007, said he had decided not to extend his contract and would depart in February.
The decision comes two days after Tim Passmore was sworn in as Suffolk police and crime commissioner (PCC).
On Thursday, Avon and Somerset Chief Constable Colin Port said he would step down after being asked by the force's new PCC to reapply for his own job.
And on 16 November, it emerged that Essex Chief Constable Jim Barker-McCardie had announced his intention to step down before the end of his contract.
Mr Ash, 52, is eligible for retirement, having completed more than 30 years of service as a police officer in Kent, Hertfordshire and Suffolk.
'Full support'
Speaking about his decision, Mr Ash said: "My contract with Suffolk was due to come to an end earlier in the year, but I decided to remain in post to oversee the transition to the police and crime commissioner.
"With the election behind us, it now seems an appropriate time to hand over to a new chief constable who can take the constabulary forward with the new PCC, Tim Passmore.
"I will be working with Tim to support him through his first three months.
"The PCC heralds a major change to the way in which policing is governed and I know he will have the full support of my colleagues in his work over the coming years."
Mr Ash will join the Parole Board as an independent member from February.
Conservative PCC Mr Passmore said: "I would like to thank Simon for the support he has given me to date.
"It is not by accident that Suffolk is one of the safest counties.
"Simon has led Suffolk Constabulary through some testing financial times and I applaud him for his commitment."