Disabled children's charity Out & About to close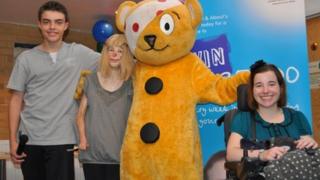 A disabled children's charity based in Suffolk says it has been forced to close after funding cuts and a downturn in donations.
Out & About, which formed in 1984 and is based in Claydon, says it helps "hundreds" of disabled children participate in activities.
All 16 staff members will lose their jobs when the charity closes on Friday.
Michael Wood, chairman of the trustees, said: "It's a win-win charity which I'm afraid won't be winning anymore."
The charity helps disabled children take part in everyday activities - pairing them up with a young volunteer who would offer support.
Contracts missed
"It's sad that Out & About will no longer be able to make a significant impact on the lives of disabled children and young people," Mr Wood said.
He said the charity had missed out on contracts to care for disabled children and that donations were "not as forthcoming as they were".
More than 100 volunteers helped Out & About's work across Suffolk and Essex, Mr Wood said.
The charity was previously awarded £83,725 over a three-year period by Children in Need.