Sudbury's mystery 'Do not eat the flowers' signs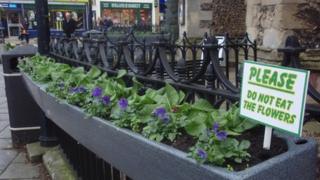 Mystery surrounds "Please do not eat the flowers" signs which have been placed in floral displays in a Suffolk town centre.
The two printed signs have appeared in the Market Hill area in Sudbury.
The town council, which owns the displays, said it has not added the signs and does not know why anyone else would.
Jacqui Howells, deputy council clerk, said: "It's a mystery and we have no idea where the signs have come from."
The council has about 40 floral troughs in the area around the town hall and St Peter's church.
It said the troughs are too high for dogs to eat from, so the signs are not needed to warn owners.
The council said the winter pansies were not poisonous, so there was no health risk.
Ms Howells said: "It's not a publicity stunt by us, although it is good publicity for Sudbury before Christmas.
"I don't know what to make of the signs - people do some weird things."