Suffolk out-of-hours GP service could move to Ipswich Hospital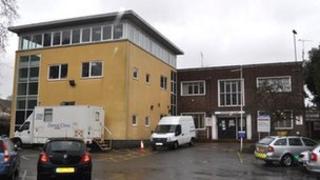 The public is being consulted on a proposal to move Suffolk's out-of-hours GP service to Ipswich Hospital.
Harmoni has run the NHS service at the Riverside Clinic in Ipswich since 2010.
The NHS said it wants patients' views on the GP plan, which follows the transfer of the minor injuries service to the hospital in July.
Tracy Dowling, from NHS Suffolk, said: "Patients have told us having services concentrated in one location will make it less confusing to know where to go."
NHS Suffolk said the move was not about saving the NHS any money as its contract with Harmoni would not change.
Ms Dowling said: "The move also makes clinical sense - if the out-of-hours GP thinks a patient needs urgent medical attention, the patient will already be in the right place as the emergency department is nearby."
Parking charge
Dr Imran Qureshi, who is a GP in Ravenswood in Ipswich and a member of the Ipswich and East Suffolk Clinical Commissioning Group, said: "We're hoping [the proposal] can support the accident and emergency ward, which is under pressure, because patients who don't necessarily need to be seen in the A&E department could be treated in an appropriate and timely fashion."
Parking is free at the Riverside Clinic, but patients would have to pay £1 for an hour-long stay at the hospital.
The Riverside building is privately owned and it would continue to be used by Allied Health Professionals Suffolk which provides physiotherapy services for the NHS.
NHS Suffolk is asking for patients' views using its online survey.
Suffolk County Council's health scrutiny committee said it had been consulted on the proposal and was satisfied that there was a clinical need for the move.