Port of Felixstowe seizes fake 'presents' worth £8m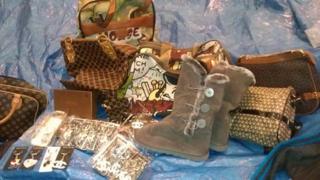 Fake goods with a retail value of £8m have been seized at the Port of Felixstowe in Suffolk.
More than 16,000 pairs of counterfeit Ugg boots, 3,984 sets of Molton Brown toiletries and 2,271 Louis Vuitton bags were among the items discovered.
A spokesperson for the Border Force said there had been a "noticeable rise" in finds over the past few weeks.
"Our message is that if something is too good to be true it probably is," the spokesperson said.
The items with a "genuine retail value" of more than £8m were found in containers during October and November.
Online warning
The Border Force said the Molton Brown sets, had they been genuine, would be worth more than £500,000.
Two finds of Ugg boots were worth £2m and the fake Louis Vuitton bags were part of a consignment of assorted luggage which could have sold for more than £4m, the agency said.
Other fake branded products included Adidas, Gucci, Disney, Lacoste, Giorgio Armani and Hello Kitty.
"People should be wary of buying cheap items online," the Border Force spokesperson said.