Jury considers Garry Cowan prison officer hold-up verdict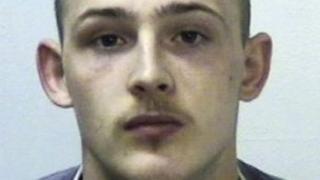 A jury has retired to consider its verdict in the trial of a man accused of holding two prison officers at gunpoint to help an inmate escape.
Garry Cowan, 45, denies using a replica handgun to help Andrew Farndon flee from West Suffolk Hospital in January.
He said he was on a hitch-hiking trip elsewhere at the time of the escape.
Woolwich Crown Court heard how Kim Lockwood and Chris Matson were held up while taking Highpoint prisoner Farndon to be treated for a knife wound.
They told jurors they feared they were about to be killed when a gunman threatened to shoot them outside the hospital unless they released Farndon, on 25 January.
Balaclava
Mr Cowan, who is originally from St Andrews in Scotland and was formerly an inmate at Highpoint jail in Stradishall, Suffolk with Farndon, was arrested three days later at the home of another former inmate in New Cumnock, East Ayrshire.
Prosecutor Gregory Perrins said jurors had heard from a number of witnesses who saw a man matching Cowan's description at the hospital on the afternoon of the escape. He was also picked out in an identification parade by Miss Lockwood, the court heard.
Mobile phone data placed Cowan outside the hospital in Bury St Edmunds on the day of the hold-up, the prosecutor said, and the defendant's DNA was found on a jumper sleeve used as a balaclava and on the inside of a case which allegedly contained the gun.
Cowan said he was hitch-hiking through England that day and suggested that some of the evidence against him may have been planted by a former inmate.
He has pleaded not guilty to possession of a replica handgun with intent to cause fear of violence, and assisting an offender to escape.
Francis McGrath, defending, said Miss Lockwood could have picked Cowan out in the parade not because he was the gunman, but because she unknowingly recognised him from when she worked in the prison in which he spent time.