Hadleigh fuel tanker arson: 200 people help with inquiries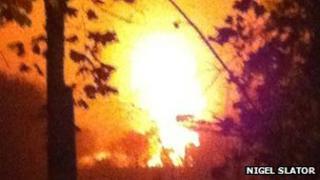 About 200 people have helped an investigation into an arson attack at a fuel depot in Suffolk, police said.
Ukay Fuels, of Hadleigh, said about £500,000 of damage was caused when three fuel tankers were set on fire on 16 November.
The police said the investigation was continuing into the fire at the Lady Lane Industrial Estate when 35,750 litres of fuel were destroyed.
Officers said they were sifting through the information gathered.
The police and fire service have been in Hadleigh's Market Place to seek witnesses to the tanker fires and about 20 other smaller suspected arsons in the town this year involving cars, wheelie bins and sheds.
Crimestoppers said anyone with significant information into the tanker fires could be eligible for a reward of up to £1,000.