Felixstowe Bartlet Hospital sale to Gipping Homes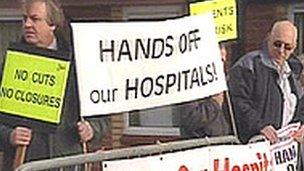 Contracts have been exchanged in the project to turn a former Suffolk community hospital in to 31 homes.
The Bartlet Hospital in Felixstowe was closed by the NHS in 2006 and completion of its sale to Gipping Homes is expected in January.
Save The Bartlet campaigners wanted the NHS to retain the building as a health facility.
Gipping Homes said it hoped the flats and houses in the Grade II listed building would be ready by 2014.
Peter Blemmings, a director of Gipping Homes, said: "We are delighted to secure this iconic building for development.
"The development will include restoring the fabric of the building to its former glory and securing its future for generations to come."
The hospital was founded in 1926 as a convalescent home using a bequest of £250,000 from Dr John Bartlet, a local surgeon.
Michael Nimmey, one of the campaigners against the hospital's closure, said: "I'm appalled there won't be an ongoing health delivery from this site.
"Dr John Bartlet would be appalled that his money is just to give a nice setting for 31 individuals."
NHS Suffolk said it had spent £1.75m at the Felixstowe Community Hospital elsewhere in the town as part of its reorganisation of health facilities.
Related Internet Links
The BBC is not responsible for the content of external sites.