Southwold oil spill exercise 'success'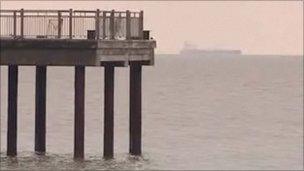 An exercise to see whether Suffolk could cope with an oil spill at sea has been deemed "a success".
An area about 10 miles off the coast of Southwold is the UK's only designated zone for ship-to-ship oil transfers.
The Maritime & Coastguard Agency (MCA) said last month's exercise aimed to test the response of the authorities to a theoretical 300 tonne spill.
Local council representatives who saw the exercise said they were reassured oil was unlikely to reach the shore.
The circular zone, which is three miles in diameter and begins nine miles from the shore, was created by the government earlier this year.
An MCA spokesman said: "A 100% guarantee can never be given as every incident will provide a unique set of circumstances and subsequent risks.
'Impressed with equipment'
"In this exercise the type and volume of oil proved amenable to dispersant intervention, physical containment and collection.
"Whilst a small amount might have impacted on the coast, the shoreline clean-up would have been minimal and straightforward."
No oil was put in the North Sea during the exercise.
It simulated a large crude oil spill resulting from a major tanker accident, rather than a spill during a transfer of oil, which the MCA said would never amount to more than a tonne of oil.
Mary Rudd, cabinet member for community health at Waveney District Council, said: "We were told it would take six tides for the oil to get to the shore and I was impressed with the equipment on show that could be used to tackle a spill.
"I was reassured that if there was a spill, it would be dealt with out to sea."
Related Internet Links
The BBC is not responsible for the content of external sites.