Butlers from Britain sought by Russia and China super-rich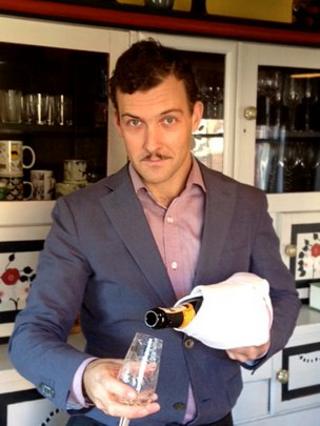 Bertold Wiesner used to be an actor but as one of the new breed of super-butlers who can command salaries of more than £100,000 a year, his stage is the world.
With his matinee-idol good looks, the 33-year-old from Woodbridge in Suffolk maintains his actor training was "perfect" for becoming a butler.
"You wear a metaphorical mask. It's the best role you'll ever have in life because it's 24 hours a day, 365 days a year."
Wiesner, butler to an international entrepreneur, has had to wear that mask many times in the course of his duties, including one memorable occasion during the 2012 Olympics.
When his employer criticised Danny Boyle's "hopeless and pathetic" opening ceremony, looking for a reaction from him, the butler knew what to do.
"In those circumstances you are probably expected to answer," says Wiesner, "but your training and experience is that you don't. It's not your place to make a judgement, so you agree."
He does, however, admit to having a surge of nationalistic pride, but says it was a perfect example of how restrained a butler has to be.
'Screaming for top staff'
And that is one of the reasons why demand for the great British butler is on the increase.
According to the International Guild of Professional Butlers, 30,000 butlers were employed in Britain in the late 1930s, but that number sank to a low of about 100 in the 1980s.
Now, however, there has been a surge in demand, thanks to new money in countries such as Russia and China.
Chairman of the Guild, Robert Wennekes, said the UK probably had 10,000 butlers today, with about 25% being female.
"The butling profession is doing very well indeed. Countries such as China and Russia are screaming for top staff."
The modern butler may double as house manager, personal assistant, valet, chef, bodyguard, and a number of other positions in a household.
Sara Vestin Rahmani, director of the recruitment agency Bespoke Bureau, said: "It is the accent - Queen's English - the etiquette and status of the British butler and his style that they are buying into."
She said demand outstripped supply and the bureau had opened six butler schools in China in 2012.
And in an era of newly minted billionaires the financial rewards can be huge.
Wiesner said salaries could "skyrocket" above £100,000. "I've heard of Arab countries paying three, four, ten times that."
The perks are not bad either.
"The very fact that you're living in a villa where there are saunas and swimming pools and underground car parking means you're sharing it.
"Of course, you don't overtly use these things unless it's late at night or your principal is away."
Stain on the parquet
Although even this can have its pitfalls.
On one evening Wiesner spilled red wine on the parquet floor of his employer's property.
"I remember a week of Sherlock Holmes-style investigations as to how this might have occurred," he said
"I could not possibly admit to it and had to carefully form a reason without blaming the cleaners or the housekeepers. I actually ended up by blaming the dog being on heat and got away with it."
Despite the glamour of travel, experiencing different cultures and staying in six-star hotels, butling is hard work.
"Throughout my career I've been responsible for all sorts of things from dressing my principals to ensuring that the house is fully stocked, that the staff uniforms are looked after, that my master's clothes and uniforms are kept perfect, keeping his linen shirts as crisp as paper."
He once had to travel across three international borders by car overnight to hunt down a new saucer for a 150-year-old Meissen dinner service to replace one that had been broken.
Doing the impossible in a short space of time is one of the skills essential for the modern day butler, and one of the reasons Weisner found himself in the profession after accepting he would never make it as an actor.
After producing plays and a stint in the media, he approached agencies with the thought of becoming a butler.
His first job was as housekeeper in a large house in Paris.
And Wiesner sees a butler's job as necessary in today's high-powered business world.
"The rising markets of the world are taking over - the Chinese, the Americans. They want British staff," he said.
Wiesner enjoys Downton Abbey, and sees similarities between Carson's old-fashioned butling and the 21st Century butler, particularly with the relationship between butler and employer.
"It's being discreet, understanding them, remaining at all times a degree of formality, becoming their aide, their assistant, but never their friend."
In the future he plans to set up his own butling school.
"It's a different world and it's exhausting," he said.
"You can't enter into it too much otherwise you lose track of reality, of who you are."