Snowboarder Emily Watts's family starts charity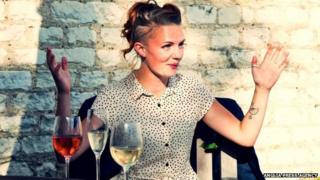 The family of a snowboarder from Suffolk who died after a crash in the French Alps have begun a charity in her memory.
Emily Watts, 26, from Lavenham, crashed into a snowdrift and suffered a heart attack near Chamonix on 8 December. She died in hospital five days later.
She had been due to begin a masters degree in design.
Her family said the Good Story charity would help nurture creative talent in young people.
"It could be music, it could be painting, it could be designing, it doesn't matter as long as the young person has talent and a good idea," said Miss Watts's stepbrother Nick McAllister.
"We haven't got all the answers of how we're going to do everything yet, but there's been a swell of love and support and we're riding that wave.
"We can help turn that good idea into something that will actually grow and flourish, with our support."
'Fantastic time'
Miss Watts's brother, Rory, added: "If we do a good job then hopefully the charity we set up will outlive us, outlive our children, and keep Mimi's energy and creativity alive, and hopefully change the lives of thousands of other people."
Good Story was the name Emily, also known as Mimi, had chosen for her design label.
She was an experienced snowboarder and had been working in France for a few weeks when the crash happened.
Her father, Dominic Watts, said the family sought some comfort from what she had been doing at Grands Montets, the largest pisted skiing area in the Chamonix Valley.
"The sky was blue, the sun was shining, there was fresh snow... she was free to have a great day on the first day the lifts were open, and she must have been having a fantastic time," he said.
Mountain rescuers and police had told them Ms Watts caught an edge of the piste and "was catapulted into a 70cm (27in) pile of powder".
A British skiier raised the alarm but Ms Watts suffered a cardiac arrest by the time emergency crews arrived.
A service to celebrate Ms Watts's life will be held in Lavenham on Saturday.