Pauls Malt Ltd fined for River Lark pollution that killed fish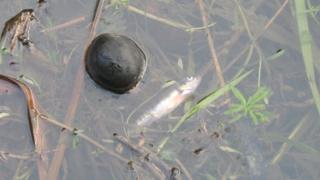 A firm that caused river pollution that killed "dozens of fish" has been fined £20,000.
Pauls Malt Ltd, of Bury St Edmunds, admitted that oil from its Eastern Way premises had entered the River Lark, in November 2011.
The Environment Agency, prosecuting, said at least 47 fish died and 100 more were "observed in distress" on the 2.29 miles (3.7km) stretch of river.
Magistrates in Bury St Edmunds also ordered Pauls Malt to pay £6,475 costs.
The agency said a pipe in an oil tank had not been effectively sealed, allowing the fuel to escape via a drain which led to the river.
'No expense spared'
Speaking after the hearing, agency officer Ross McIntyre said: "The pollution and these fish deaths could have been avoided if adequate preventative measures had been in place for the oil tank."
A spokesperson Pauls Malt Ltd said the spill was "totally unforeseen".
"The company deeply regrets the incident," the spokesperson said. "The event related to a malfunction "fail safe" device which failed within six months of being installed and tested."
The spokesperson said the company responded "immediately" once the spill was discovered and said new measures had been put in place to prevent a recurrence.
They added the firm's "no-expense-spared clean up" of the River Lark demonstrated its ongoing commitment to the local environment.