Police warning as heavy snow hits Suffolk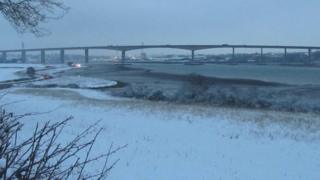 Police are warning of hazardous driving conditions after heavy snow fell in parts of Suffolk.
The east of the county was the worst hit, including the Ipswich, Saxmundham and Lowestoft areas.
More than 30 schools did not open on Friday while about 25 others were due to close early. Further snow showers are forecast for later, with temperatures due to peak at 1C (34F).
More than 2in (5cm) of snow fell in some parts of Suffolk.
A Suffolk police spokesman said: "Driving conditions are slightly treacherous but there have not been any major problems on the roads."
Trains between Suffolk and London are being delayed, with speed restrictions in place.
Milk floats struggling
Anglian Buses are not running any services because of the weather.
Waveney District Council cancelled all bin collections for Friday, while Suffolk Coastal District Council is not collecting brown bins.
Deliveries companies have been struggling in the snow.
Moojuice, of Haverhill, has a fleet of 15 milk floats operating in Suffolk, Norfolk, Cambridgeshire and Essex.
Roger Plumb, director of Moojuice, said: "Our milkman in Bungay has been finding it hard because of a foot of snow.
"We're getting through though and are going to try to do a second delivery on Friday instead of going out on Saturday morning to keep ahead of the forecast for more snow.
"Drivers are going to be working a 12-13 hour day today."
Bird reserve
The RSPB has closed its Minsmere reserve on the Suffolk coast near Dunwich.
Adam Rowlands, site manager at Minsmere, said: "The approach road has fairly steep slopes and the first cars coming in on Friday morning were getting stuck .
"We'd expect 100 visitors on a day of good weather, but maybe only a dozen hardy birders on a day like today.
"The lagoons are frozen, so the birds will struggle and we will be putting out scraps of fish and we'd encourage everyone to put food out for the birds in their gardens."