Ipswich bull terrier found starving - pair admit offences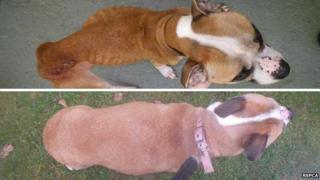 A mother and son have admitted animal cruelty offences after a dog was found weighing half its recommended weight in an Ipswich flat.
The Staffordshire bull terrier was found with minimal food and water in September last year, the RSPCA said.
Cy Whitham, 20, and Millie Geraldine Whitham, 47, both of Defoe Road in Ipswich, admitted three offences each before magistrates in the town.
The son has been jailed for 18 weeks. The mother will be sentenced later.
The dog, known as KD at the time, was found by a pest controller at the flat on Donegal Road, surrounded by excrement.
The RSPCA were called in and said she weighed 20.3lbs (9.2kg), when she should have been up to 44.1lbs (20kg).
'Bag of bones'
Speaking after the hearing, Insp Jason Finch from the RSPCA, said: "When I saw her I couldn't believe she was still alive.
"When the pest controller opened the door, the dog came out and immediately started trying to scavenge for food or anything that she could eat and he gave her a couple of biscuits.
"I've not seen a dog that thin for at least 10 years - the poor girl looked like a bag of bones."
Cy Whitham, who will serve his sentence at a young offenders institute, has also been banned from keeping animals for 15 years.
Millie Whitham is due to be sentenced on 5 February.
The dog, which has been renamed as Lottie, has been in the care of the RSPCA and the animal welfare charity said she now weighs 37.5lbs (17kg).
She is at the RSPCA's Martlesham Animal Centre waiting to be found a new home.