Gritting lorries out as more snow hits Suffolk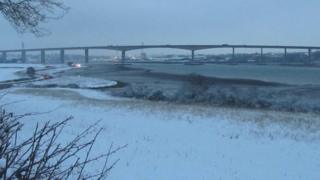 Gritting lorries are being sent out over the weekend as more snow is being predicted across Suffolk.
On Friday, the east of the county was the worst hit, including the Ipswich, Saxmundham and Lowestoft areas.
The county council said 43 gritters have been sent out and will continue over the weekend to tackle 3,300km of roads in Suffolk.
Motorists are being advised to leave additional time for journeys.
Guy McGregor, Suffolk County Council's cabinet member for roads, said: "Our teams will be doing all they can to keep traffic moving and ensure public safety. However, it is equally as important for people to use local grit bins to make travelling easier and safer in their local area where they can."
A Suffolk police spokesman said: "Driving conditions are slightly treacherous but there have not been any major problems on the roads."
Trains between Suffolk and London are being delayed, with speed restrictions in place.