Sutton Hoo site power lines go underground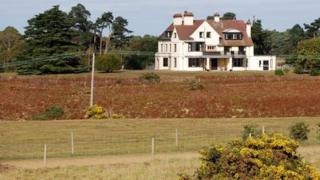 The view of an important archaeological find in Suffolk is set to be improved thanks to a £200,000 project to remove overhead power lines.
UK Power Networks is taking down the posts carrying electricity over Sutton Hoo site, near Woodbridge in Suffolk.
Just over a mile (1.5km) of high-voltage overhead line will be replaced by underground cables.
The world-famous Sutton Hoo is a group of Anglo-Saxon burial mounds, one of which contained a king inside his ship.
The grave was unearthed in 1939 and archaeologists found the warrior surrounded by a wealth of treasure.
About 100,000 visitors come to the National Trust site each year and it is classified as a scheduled ancient monument of national significance.
The area is also within the Suffolk Coast and Heaths Area of Outstanding Natural Beauty (AONB).
The four-week project to remove the power lines will result in uninterrupted views of the landscape down to the River Deben.
An archaeologist will be on site at all times while the work is taking place.
UK Power Networks said the work would improve the reliability of the network as overhead power lines can sometimes be adversely affected by weather or tree branches.
A special allowance from industry regulator Ofgem is given to the company to allow them to replace overhead power lines with underground cables within AONBs and national parks.
The projects are chosen by a regional steering group of environment experts, including the Suffolk Coast and Heaths AONB, and chaired by Natural England.
Shaun Barrell, from UK Power Networks, said: "This is an extremely important site of great historical significance and we are pleased to be playing our part in enhancing this beautiful landscape for the thousands of people who visit the area each year.
"This investment will also improve the reliability of the network for our customers."