Suffolk weather: Snowfall causes schools to close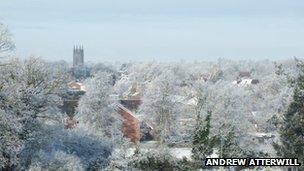 More than 200 schools in Suffolk have been closed or have restricted opening owing to the snow.
Police say there have been no major incidents on the roads but are urging motorists to take care.
The county council has all its gritting lorries on the road and is expecting more supplies of salt. It is also mobilising local farmers to clear roads where necessary.
A broken down at Chelmsford has affected services to London.
Greater Anglia said the fault, which happened at about 09:40 GMT, would be "fixed quickly".
At about the same time, a faulty level crossing was reported between Kennett and Ely.
Peter Meades, Greater Anglia, said: "We've got a few delays but generally all our routes are open and services are running reasonably well."
Some bus services in the county, especially in rural areas, have also been cancelled.
The East of England Ambulance Service has advised people to take care when sledging.
It said "more than a dozen" emergency calls had been received over the weekend on behalf of people injured while riding in the snow.
Some sustained "broken limbs or head injuries", the trust said, while others required further treatment in hospital.
"The fun really isn't worth it if you wind up with a painful injury in A&E," a spokesperson said.
On Monday morning, more than 100 people headed to the slopes of Christchurch Park in Ipswich.
Several had customised or home-made sledges, including a boy called Harry.
"In the summer I found an old school chair and thought I'd use it for something," he said. "I had it in the garden and when it started snowing I made a sledge out of it.
"It's pretty good when it's icy but worse when there's fresh snow."
Waveney District Council and Suffolk Coastal District Council said they were suspending all recycling and rubbish collections on Monday because the roads and paths were "too dangerous".
Related Internet Links
The BBC is not responsible for the content of external sites.