Pumpkin seed bought online for £168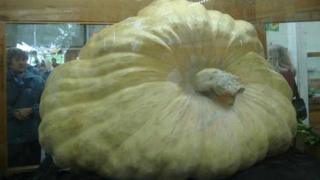 A gardening company has paid 200 euros (£168) for a single pumpkin seed.
Thompson & Morgan, which is based near Ipswich and sells giant pumpkin seeds for 46p, bought the seed at an auction.
The seed was highly valued as it was taken from a pumpkin said to weigh 2,009lb (911kg), which would make it heavier than the current world record of 1,818lb (824kg).
The company said it wanted to use the seed in an attempt to grow the world's heaviest pumpkin.
Managing director Paul Hansford said: "If you want to grow a really huge pumpkin, you need to start with record-breaking, genetically proven, premium seed."
The firm is now searching for someone with a specialist knowledge of growing giant vegetables.
The parent hybrid pumpkin was grown by Ron Wallace in the United States and the seed was sold as one of 23 lots at an online auction.
Thompson & Morgan said the price was nothing compared to the $1,600 (£1,000) said to have been paid in 2011 for a seed from a 1,810lb (821kg) pumpkin, which produced just five seeds.
Guinness World Records said the current world record for the heaviest pumpkin was awarded at the Prince Edward County Pumpkinfest in Canada in 2011.
A spokesperson said Mr Wallace had submitted a claim for the title and the process had begun to verify his evidence,
Ken Desrosiers, of bigpumpkins.com, said growing giant vegetables had been gaining popularity as a "competitive hobby" in the past few years.
"It is a fun activity that everyone can enjoy," he said.
"Watching a giant pumpkin grow in excess of 18kg in 24 hours during its peak growth, is an amazing thing."