Gressingham Foods axes 90 jobs at Suffolk duck plant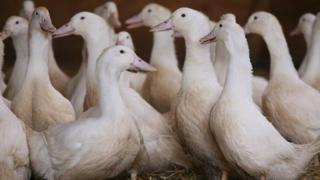 A Suffolk duck firm is cutting 90 jobs and scaling down operations at one of its two processing plants.
Gressingham Foods, which produces eight million ducks a year, said the jobs will go at its Debach plant which will be used for Christmas processing only.
The company, which employs 550 people, will continue with year-round production at its Redgrave plant.
Gressingham blamed a rise in feed prices for prompting the cuts.
The job losses will affect slaughterhouse and butchery workers at Debach.
The firm, which also produces turkey, goose and game birds, will now only hire seasonal workers at Debach for the period of increased production between mid-November and the end of December.
The company has a turnover of £100m a year and is supplied by about 70 farms across Norfolk and Suffolk - half of which are owned by Gressingham and half by private suppliers.
Geoffrey Buchanan, joint managing director, said: "Despite good sales growth, feed costs have almost doubled over the last five years with a dramatic impact on profitability.
"All affected staff are being consulted and we are looking to minimize the impact wherever we can."