Ufford church's tower boost for broadband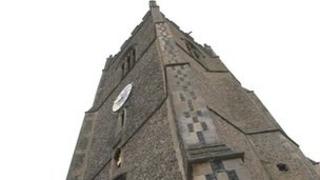 A Suffolk church, which dates from the 12th Century, could help local people get 21st Century superfast broadband.
The church of St Mary of the Assumption, Ufford, near Woodbridge, could host a hidden aerial to boost poor broadband signal in the village.
Villagers are working with the church and Essex firm County Broadband to install the aerial.
If the trial proves a success it will then need the backing of the local church council in Ufford.
The Rev Michael Hatchett, rector of Melton and Ufford, said: "We have been engaging with a local community group Ufford broadband about helping to provide broadband coverage in the village, which to date is poorly served."
'Broadband pathetic'
He said the aerial was being installed in the bell chamber and would not be visible from outside.
Jan Purcell, one of Ufford's churchwardens, said: "This will mean a lot faster broadband for the community, the broadband speed is pretty hopeless at the moment.
"All through history the church has been a place for communicating news and events and we see this continuing that tradition."
Professor Peter Cochrane, an engineer who lives in the village and who has been leading the community campaign for better broadband, said: "The broadband is so pathetic in the village and we need better.
"The antenna is about the height of a carton of milk and we are on a roll now with this community project."