Car crashes into Ipswich's 'finest' Tudor house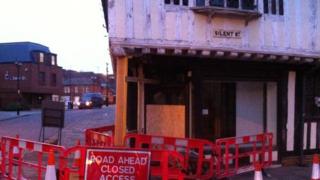 A car has been driven into the front of Ipswich's "finest" Tudor house, damaging the front entrance and its corner post.
It happened at Curson Lodge on the corner of St Nicholas Street and Silent Street at about 20:45 GMT on Tuesday.
The car owner has since had the vehicle removed, police said.
Dr John Blatchly, a local historian, said: "It's Ipswich finest 15th Century domestic building and I was extremely dismayed when I heard about the crash."
The building is believed to date from about 1480 and was the guesthouse to the larger Curson House, which is no longer standing.
A statue of Cardinal Thomas Wolsey, who was Henry VIII's Lord Chancellor, is a few yards away on the site of Curson House.
Merchant's 'puzzle'
Wolsey, who was brought up in Ipswich in a nearby house, was planning on retiring to Curson House, but he died before making the move.
Dr Blatchly, who was chairman of patrons of the statue, said: "The corner post is wonderful - it has a merchant's mark at the top of it, which is a puzzle I haven't been able to solve, to tell us who lived there and what his trade was.
"I hope the damage isn't too great and it can be repaired."
Curson Lodge was restored by the Ipswich Building Preservation Trust in 2007 and had been used as a shop in recent times but is currently empty.
Police said the incident was an insurance matter for the owners of the car and the building.