Ipswich's Curson Lodge car crash uncovers 1902 'time capsule'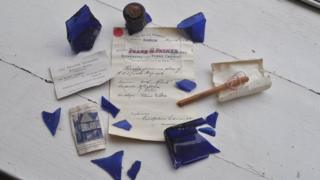 A "time capsule" has been found at a Tudor house in Ipswich after a car crashed into its front door on Tuesday.
The vehicle took out a wooden pillar at the entrance of Curson Lodge on St Nicholas Street, on Tuesday evening.
Now a blue medicine bottle, containing a shopfitter's receipt and business card dated 1902, has been found in the dislodged brickwork.
Francis Street, the building's owner, said: "It's fantastic and just adds to this house's long history."
Curson Lodge was built in about 1480 and is regarded by preservation groups as the finest domestic house in Ipswich.
The building was a pharmacy when the bottle was hidden in the brickwork inside the hollow wooden pillar.
'Frame broken bottle'
The receipt in the bottle is headed with the name of the chemist, George Nelson Edward, and it records the signatures of the foreman, carpenters and bricklayer who carried out the work.
Mr Street said: "It's a bit like an old classic car, where the man who built the engine will always put his name on it with pride - the person who built this shopfront did very much the same thing."
The building was restored by the Ipswich Building Preservation Trust who sold it to Mr Street in 2007.
Nick Jacob, trust chairman, said: "The discovery of the bottle sounds fascinating and adds to the story of the building."
It was last used as a clothes shop and is standing empty, but Mr Street said he is about to sell it to someone who wants to open a health centre.
"We should entrust the broken bottle and its contents to the new owners, but I would frame it and put it on the wall," he said.
He added that the cost of repairing the entrance and its carved post would be covered by insurance and Ipswich Borough Council's conservation officers were providing advice.