Newmarket Home of Horseracing project out to tender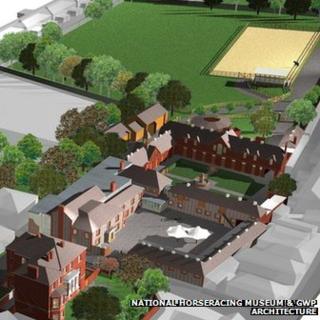 Final approval has been given to find a developer to create a £14m visitor attraction in Newmarket.
The Home of Horseracing project would relocate the National Museum of Horseracing from the High Street to the Palace House and stables.
Forest Heath District Council has voted to put the building contract out to tender.
It projects that the new centre can attract 40-50,000 visitors a year to the town.
The museum said it currently attracts 12-13,000 visitors a year.
The Palace House, where Charles II used to live when he visited Newmarket races, and its derelict grounds cover 5 acres (2 hectares).
'Destination' venue
Chris Garibaldi, director of the National Horseracing Museum, said: "It's not a small museum moving up to bigger museum - it's a comprehensive redevelopment and regeneration of the heart of the town.
"It's going to be a 'destination tourist venue' and the museum will provide footfall for the High Street.
"Newmarket has an extraordinarily powerful international brand and we need to provide a facility for people to come and unlock that history."
The new project would provide space for the existing museum's art collection, collections from the British Sporting Art Trust and the Tate, and provide a home for the Retraining of Racehorses charity.
Warwick Hirst, Forest Heath cabinet member, said: "This is a truly exciting project which will not only transform the centre of Newmarket but also significantly add to the town's reputation as the worldwide tourist destination for anything to do with the world of horseracing."
Funding has come from Forest Heath (£1.3m), Suffolk County Council (£1m), the Heritage Lottery Fund (£4.25m) and private individuals and trusts.
It is hoped building work can begin in July with the opening scheduled for 2015.