Rare Giles drawings up for auction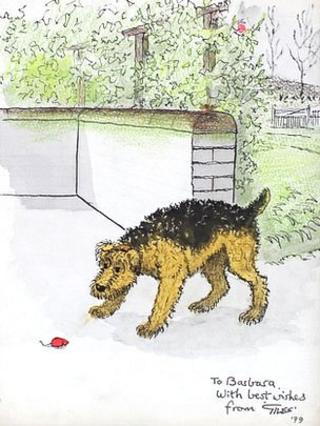 Rare drawings by Daily Express cartoonist Carl Giles are going up for auction.
Lockdales auctioneers in Martlesham, Suffolk, will be selling 31 Giles items, including a rare colour watercolour given to his cleaner.
The picture is of a dog called Butch and a red mouse, which auctioneers hope will make about £700.
Other items to be auctioned include original drawing featuring Giles' most popular creation, Grandma.
Oliver Miller, of Lockdales, said during Giles' lifetime he "never actually sold an artwork".
"Everything was given away. He also did an awful lot for charity. It was all done for the goodness of his own heart."
He said there were "a lot of collectors around the world" interested in his cartoons.
Mr Miller said some of the items had been put into the auction by Giles' former cleaner, including the picture of Butch the dog.
"It (the picture) is unusual because he had coloured it and most of his pictures are in black and white," he said.