Felixstowe Spa Pavilion demolition considered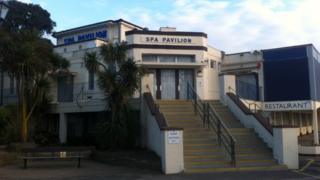 Two bids to keep a Suffolk theatre as a leisure or entertainment complex have been rejected by the local council.
The Felixstowe Spa Pavilion was closed by its owner Suffolk Coastal District Council in January.
Two of the groups bidding to run it, Felixstowe Ambitions and Spa Pavilion Associates, have been told their proposals are not financially viable.
Councillor Geoff Holdcroft said: "I'm more coming to the view that it will have to be knocked down."
The Conservative-run council voted to end its £250,000 annual subsidy to the venue, which does not have listed status.
The council's cabinet is expected to make further decisions on the building's future in April.
'Absolutely horrified'
Councillor Holdcroft, cabinet member for leisure, said: "I'm looking for some sort of thing to attract people to stay in Felixstowe all day and a theatre would be a good part of that, but the theatre in its current format is not viable here.
"We've put it to the open market and are still looking at some multi-functional building, but it would need a lot of investment and a lot of places now knock down and completely rebuild rather than refurbish."
Lisa Hardy, from the Spa Pavilion Associates group which includes local theatre groups, said: "I was absolutely horrified at the suggestion of demolition.
"However, we have been told the building remains on the market and we are talking to the council's project board to see what adjustments we might yet be able to make to our bid."
John Edson, project leader with the Felixstowe Ambitions group of community organisations, said: "I'm astonished because we haven't got all our financial data yet and we had explained there would be a delay in getting that to them.
"We will try and maintain contact with the council and hope it won't be demolished, but will be kept for some form of community use."