Suffolk schools seen as 'fair game' by computer thieves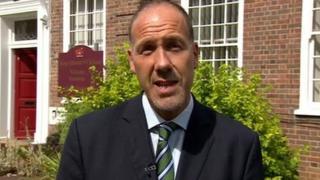 Schools in Suffolk are seen as "fair game" by computer thieves, a head teacher has said after eight iMacs were stolen from his school on Monday.
Geoff Barton said thieves broke a chain and drove across the playing field at King Edward VI School before taking the desktop computers, worth about £5,000.
The robbery in Bury St Edmunds follows the recent theft of more than 120 laptops from nine schools in Suffolk.
Mr Barton warned other schools to be "incredibly vigilant".
The theft will have an impact on students, who use the computers for A-level music and music technology and have course deadlines next month.
'Heed advice'
"It's incredibly frustrating," Mr Barton said. "It makes you quite angry.
"We had heard about the other thefts, but the others had all been laptops.
"These were big desktop computers attached to keyboards, so there was no question of putting them away each night."
Mr Barton said he believed the thieves "knew exactly what they were looking for", as the school is alarmed and a caretaker is on site.
"It's very hard to know quite what more a school can do," he said.
"We'll wait and see if the police give us any advice on what we could do next, and I certainly think other schools might want to heed that advice as well."
Suffolk Police said it was "very likely" that the robbery was linked to the laptop thefts.
Ch Insp Kim Warner said the police had contacted all schools in the county to offer personalised advice on how they can improve security.
"It's been a limited uptake," he said. "I'd encourage schools to come forward - it's free advice from experts in the field."
Mr Warner said it was proving a "challenge" to find the criminals, whom he believes are "a group, or maybe more than one group".
"Being rural locations makes it difficult to have eyewitnesses, which are critical for criminal inquiries," he said.
"They tend to be overnight and because they're rural forensic opportunities can be limited."