Ipswich's Tolly Cobbold brewery gets planning approval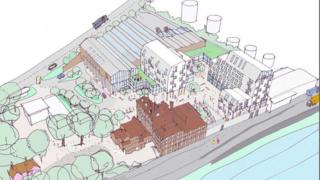 The £30m redevelopment of a former waterfront brewery in Ipswich has been granted approval.
Pigeon Investment Management wants to turn the former Tolly Cobbold site into a mixture of flats, businesses and leisure use.
Part of the plan is to convert the listed building into an auditorium, commercial units and a museum space.
Outline planning permission was granted by Ipswich Borough Council and Pigeon said it hopes to begin work next year.
A proposal to turn the brewery building, which dates from the middle of the 18th Century, into 26 apartments and build a further 46 flats elsewhere on the site was turned down in 2004.
The latest project includes 27 flats and a supermarket on the six acre (2.5 hectare) site.
Brewing history
Clive Thompson, project co-ordinator, said: "It's very exciting as I've spent two years working on this project and we now have the support of the council to regenerate this part of the waterfront.
"The brewery building will provide an auditorium with wonderful light through the lantern roof, commercial units similar to Snape Maltings and a museum space reflecting the brewing history of the building.
"We can now beaver away to create detailed designs and consent for the prospective demand."
Pigeon said it was in discussions with the Ipswich Transport Museum and Suffolk Record Office about possible moves to the site.
Mike Cook, planning officer with the Ipswich Society preservation campaign group, said: "We're very pleased because the brewery building is leaking, it's on the buildings at-risk register and its contents have been ransacked apart from a valuable steam engine and copper vat which are still inside.
"I think this scheme is sympathetic in the way it will combine the Victorian history of the docks with modern design.
"It could become a real visitor hub if they can get all the attractions that they're talking to to move there."